On March 9, 1959, Barbie made her debut as a fashion doll that represented a woman instead of the baby dolls that had taken center stage for many years. Here are 5 things you probably didn't know about this popular doll that's been around for 60 years...
The Original Barbie Was Simple but Stylish
Barbie's real name is Barbara Millicent Roberts, and she was born on March 9, 1959, in the imaginary town of Willows, Wisconsin. In 1959, the first Barbie doll was introduced and came with either blonde or brunette hair. She was dressed in a one-piece swimsuit with black and white stripes. In addition, Barbie looked to the side until 1971 when her gaze was changed to make her look ahead. The doll cost $3, which would equate to about $24 today.
Barbie Probably Has the Biggest Wardrobe in the World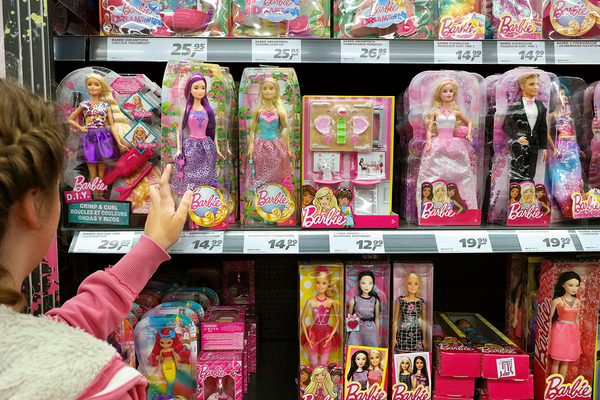 About 58 million Barbie dolls are sold each year around the world. Since Barbie debuted, there have been about one billion items of clothing designed for her, using over 100 million yards of fabric. Even top designers such as Versace, Dolce & Gabbana, Gucci and Givenchy have designed clothing for the doll. In addition, over one billion pairs of shoes have been designed for Barbie so far, and now she can wear flats, so the days of endless high heels are over.
The Doll Has More Pets than a Zoo - Almost Barbie accessories are endless, and nowhere else is it seen more than in the pets that have been sold with her over the years. She has been the owner of 21 dogs, three ponies, 14 horses, six cats, a chimpanzee, parrot, lion cub, panda, zebra and even a giraffe. This is probably why she's held more than 150 jobs over the years, so she could care for all those pets.
She's Held Many Exciting Jobs Over the Years Barbie must be well-educated because the jobs she has held over the years are nothing short of astonishing. She's had over 200 careers that include being a Desert Storm medic, cashier at McDonald's, paleontologist and astronaut. She also ran as a presidential candidate six times but was never nominated.
The Most Expensive Barbie Sold for Hundreds of Thousands of Dollars In 2010, a one of a kind Barbie created to raise money for cancer research. She was dressed in a simple black strapless dress with a tiered skirt and something else quite special — a necklace with a real pink diamond, surrounded by square cut and white baguette diamonds. She sold at auction for $302,500.