On May 4, 1970, Ohio National Guardsmen opened fire on a group of student protesters on the campus of the Buckeye State's Kent State University. To mark the anniversary of that somber occasion, here are five things you probably didn't know about the Kent State shooting…
Two of the Students Who Were Killed Were Only Bystanders.
Kent State added permanent memorials to the spots where the four students died. Image source: Andrew Borgen/Flickr. Jeffrey Miller and Allison Krause were both participating in the protests when they were shot. However, Sandra Scheuer and William Schroeder were only passing by that part of campus as they walked to their classes. The National Guard had started shooting indiscriminately, firing 70 shots in just a few seconds. Scheuer and Schroeder were just at the wrong place at the wrong time.
The Woman in That Chilling Photo Was Actually a Teenager and Not a Student. While she looked older in the photo, Mary Ann Vecchio was a 14-year-old runaway who ended up at Kent State that day. After the shootings, her already unsteady life became more volatile because of the amount of attention—much of it negative, including accusations from random people that she was the actual cause of the shootings—and she eventually stopped going to commemorative events. She has been able to settle into a much calmer life, luckily.
A Lawsuit Filed After the Shooting Asked for Only $1.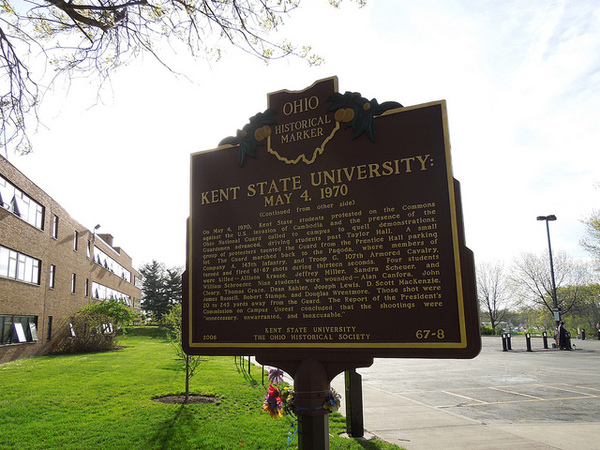 The shootings will always be remembered, as will those injured or killed. The parents of the dead students filed lawsuits and eventually reached settlements. However, the initial lawsuit filed by the parents of student Allison Krause asked for only $1. For Arthur Krause, it was about justice rather than money. In total, the group sought $46 million in damages in a 1975 civil trial; they lost the original trial, but appealed the decision and later reached a settlement.

Kent State's ROTC Building Was Burned To The Ground Two days before the shooting occurred on the Kent State campus, protesters burned the wooden ROTC building to the ground. It was not the only college campus in the US to have its ROTC building damaged around that time - Washington State's was vandalized as well. The identity of the arsonist is still unknown to this day. In the days and weeks following the shooting, things ramped up very quickly. Students staged a massive strike and 450 colleges around the country were forced to close.
There Was Nearly Another Shooting. According to John Filo, when he held a chat session on CNN in 2000, there was nearly another shooting incident. Many students returned to the quad after it was cleaned up and held a sit-in. The National Guard ordered the students to leave, claiming that the Guard would shoot again if the students did not go away. Filo said several professors managed to defuse the situation.